Due to Montana Governor Steve Bullock's Covid-19 mandate that, beginning March 28, 2020 through April 10, 2020, all Montana non-essential businesses must remain closed and employees stay at home, at least through April 10, 2020--all Laundry Loops operations are SUSPENDED through, at least, April 10, 2020. While this is a difficult business situation, these troubling times make us realize that the health and well being of our staff, our neighbors, and all our loyal customers will always remain our primary concern. We appreciate your understanding and we look forward to restarting our operations real soon. Please feel free to contact us, by email or phone, and we will respond as soon as possible.
Clothes stay sorted
while they wash and dry!
The fast, efficient way to manage laundry for teams and groups.
Order Now
ORIGINAL Laundry Loop
Our BEST SELLING product. Perfect for daily laundry service. Efficient washing & drying with minimum tangling of garments.
Laundry Loop PLUS
For EXTREME laundry demands: multiple days/heavyweight garments. Five inches longer than the ORIGINAL Laundry Loop PLUS two Sock Snares.
Order Laundry Loops
™
Due to this suspension of business, the online "Order" page of this website is temporarily unavailable. Thanks for your understanding and please check back soon.
How they work
Our Laundry Loops are easy to use and can, on average, hold up to 8 garments per ORIGINAL Laundry Loop or up to 12 garments per Laundry Loop PLUS. And each of our patented Sock Snares can securely hold multiple pairs of socks of varied thicknesses.
1. SOCKS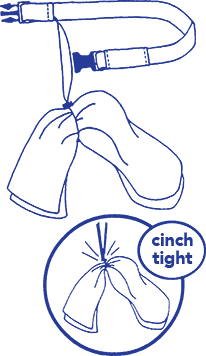 Lay socks through loop of drawstring and snugly secure cord lock.
2. SHIRT(S)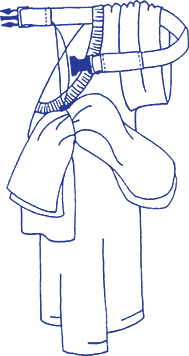 Thread Laundry Loops through shirt openings.
3. PANT(S)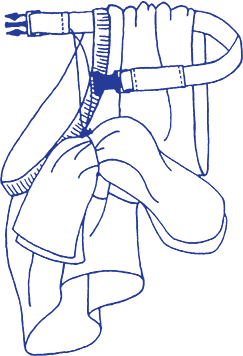 Thread Laundry Loops through leg openings or belt loops.
READY!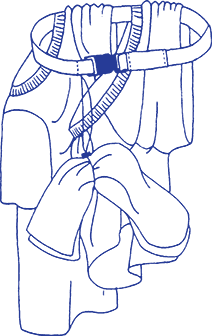 Secure the side-release buckle, then wash and dry normally.
How-To Video
Benefits of using Laundry Loops
™
Eliminates the need to sort loose garments
More efficient than using mesh laundry bags

Improves cleaning & sanitation
Dries clothes in one-half the time
Conserves energy
Reduces costs
Minimizes wrinkles in clothing
Adds years to dryer life
Outlasts mesh bags
"A great time-saving tool!"
Clubhouse Manager
Major League Baseball
"Saved our facility significant cost and energy consumption for drying clothing"
Laundry Supervisor
Federal Bureau of Prisons
"Extends the life of our gear."
Equipment Manager
National Basketball Association
"I tell our Major League players that 20 seconds of their time saves hours of our time!"
Clubhouse Manager
Major League Baseball
"Makes both members and staff happy"
Athletic Director
Downtown Athletic Club
"The 'Cadillac'of laundry devices."
Equipment Manager
SEC Conference
"My drying time has been cut in half."
Equipment Manager
Pac-12 Conference
"Quick drying time is great, especially when we're on the road, using others' dryers
Equipment Manager
US Olympic Program
"A great time-saving tool!"
Clubhouse Manager
Major League Baseball
"Saved our facility significant cost and energy consumption for drying clothing"
Laundry Supervisor
Federal Bureau of Prisons
"Extends the life of our gear."
Equipment Manager
National Basketball Association
"I tell our Major League players that 20 seconds of their time saves hours of our time!"
Clubhouse Manager
Major League Baseball
"Makes both members and staff happy"
Athletic Director
Downtown Athletic Club
"The 'Cadillac'of laundry devices."
Equipment Manager
SEC Conference
"My drying time has been cut in half."
Equipment Manager
Pac-12 Conference
"Quick drying time is great, especially when we're on the road, using others' dryers
Equipment Manager
US Olympic Program
"A great time-saving tool!"
Clubhouse Manager
Major League Baseball
"Saved our facility significant cost and energy consumption for drying clothing"
Laundry Supervisor
Federal Bureau of Prisons
"Extends the life of our gear."
Equipment Manager
National Basketball Association
"I tell our Major League players that 20 seconds of their time saves hours of our time!"
Clubhouse Manager
Major League Baseball
"Makes both members and staff happy"
Athletic Director
Downtown Athletic Club
"The 'Cadillac'of laundry devices."
Equipment Manager
SEC Conference
"My drying time has been cut in half."
Equipment Manager
Pac-12 Conference
"Quick drying time is great, especially when we're on the road, using others' dryers
Equipment Manager
US Olympic Program
Contact Us
Phone
(888) 246-5667 (Toll-Free)
Fax
(888) 840-6838 (Toll-Free)
Shipping Address
201 S Wallace Ave
Suite B-1-C
Bozeman, MT 59715
Mailing Address
Laundry Loops
P.O. Box 5167
Bozeman, MT 59717